About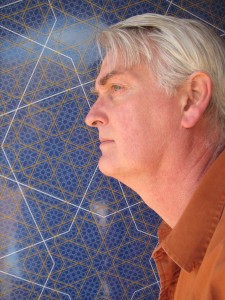 Bonner Design Consultancy specializes in traditional and contemporary Islamic architectural ornament.
Jay Bonner is a recognized authority in this field. He received his MDes from the Royal College of Art in London (1983). Since graduation he has worked on many important projects in the Middle East, Europe, and the United States; including the expansion of the Prophet's Mosque (al-Masjid al-Nabawi) in Medina, Saudi Arabia; the current expansion of the Grand Mosque in Mecca (Masjid al-Haram); the Abraj al-Bait Clock Tower in Mecca; the movable minbar for the Kaaba; the International Medical Center in Jeddah, Saudi Arabia; the Data Darbar in Lahore, Pakistan; the New Senate House in Rawalpindi, Pakistan; the Ismaili Centre in London; and the American Institute of Mathematics Research Conference Center in California.
Jay Bonner's architectural work and specialist skills with Islamic geometric patterns and floral design are well represented in this site. Please explore and enjoy to your hearts content.